Wee Bee Trackin Search And Rescue Dogs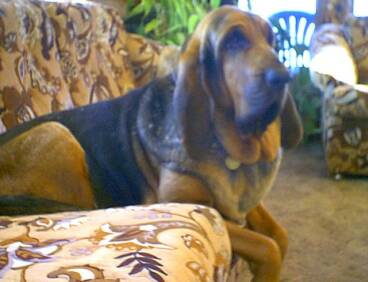 Diamond J's Mountain Dew 

Black and Tan Bloodhound

9 year  (Certified Mantrailer)

Height 25 inch       Weight: 98 lbs.

Out of Sire: TiggerOf Country Hounds (Red)

Out of Dam: Ch Chesterfield Diamond J's Ingrid (Blk&tan)

Dooley was my first bloodhound owned and was my main K-9 partner. She was very motherly  to her offspring and the peacemaker when needed. She mantrailed out of pure love of the sport.  Her oldest trail was 13 days and heavily contaminated, yet she had no problem completing the find..

She was a dedicated mantrailer and the best K-9 partner I could ever have hope for.

In Loving Memory       April. 29, 1994 - Aug. 4, 2003

Thank you James and Georgette for sharing precious Dooley with me and changing my life forever!


Irish Copper Of Wee Bee Trackin

Liver And Tan  Female Bloodhound

10.5 yr old Certified SAR Mantrailer

Height: 25"      Weight: 89 lbs

Works With Elko County Sheriff Posse SAR Unit

Out Of Sire: Sir Larimore Of Frederick's Way

Out Of Dam: The Celts Lady Shannon Of Frederick's Way

Copper is my primary search and rescue partner. She is doing an excellent job in her search and rescue work. She has been called out for many searches and doing a great job. She has been trained in wilderness as well as urban search work. She has performed many demonstrations for local groups. She accompanies me on all children demos for:            "Fanny Pack's For Life."
A training program I have created for adults as well as children on what is needed to survive when lost in the wilderness.

Interested in having us educate your group?


In Loving Memory   April. 29, 1994 - Aug. 4, 2003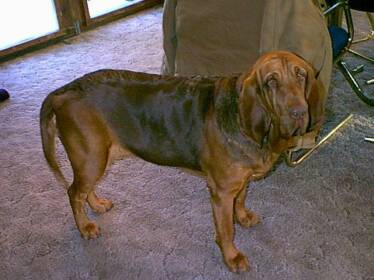 Miranda and Little Lottie 

Wee Bee Trackin's Miranda

Black And Tan Female Bloodhound

7 yr Certified mantrailer

Height: 27 1/2 inches        Weight: 98 lbs

Out of Sire: Duke Jr. Of Frederick's Way Red

Out of Dam: Boulregard's Omha B/T

Wee Bee Trackin's Little Lottie

Red Female Bloodhound

7 yr mantrailer

Height: 26 inches  Weight: 95 lbs

Out of Sire: Duke Jr. Of Frederick's Way Red

Out of Dam: Boulregard's Omha B/T

Lottie search and rescue dog / breed bitch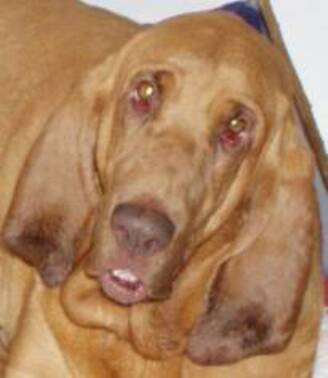 In Loving Memory   Aug. 30, 2002 - Mar. 27, 2013

Lady Clues Sings The Blues

of Wee BeeTracking

Black & Tan Female Bloodhound

3 yr SAR Mantrailer

Height: 27 inches  Weight: 95 lbs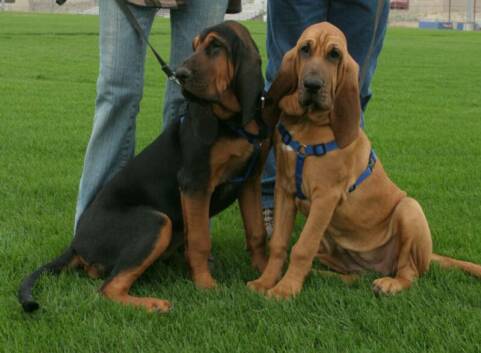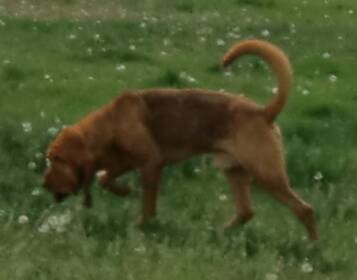 Sir Bogey of Wee Bee Trackin SAR Dogs

aka Little Larry

Liver And Tan male Bloodhound

7 yr SAR Mantrailer & Stud Dog

Height: 26 inches  Weight: 115 lbs